The Bronx Zoo Replaces Egyptian Snake

Congressman Found in Borough Reptile House
New York City International Political Report:
After selling children's organs for snow flakes in summer the distinguished Republican Congressman from New Delaware was found behind glass as the new mildly interesting American Politician exhibit at the Bronx Zoo.  Manhattan patrons felt cheated when asked to pay for the pleasure of watching a vile creature in a concrete enclosure with glass windows and a full tub.  Apparently in America, these political species are hardly going extinct, due to their hyper stripper breeding patterns.
The Egyptian Cobra has a Twitter following of over 60,000 with a 30% higher Naris Poll approval rating than Mayor Bloomberg.   "L. Spike" doesn't even use content management systems with RSS feeds because it doesn't involve white rats.  For more information go to NY1.com
Thank you for Reading from:
New York City International
April Fools!
Your Source for April 1'st Fun
Bronx Zoo Closes Reptile House
Poisonous viper on the loose, perhaps on a plane!
Samuel L. Jackson Freaks Out and moves to Brooklyn
New York City International Animal Report!
Mongoose Stock up 170 pts!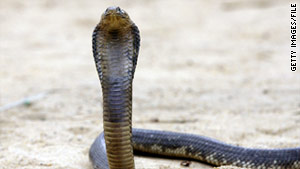 An adolescent cobra was lost in the Bronx Zoo sometime Saturday, NY sources report.  It is true the Bronx is a natural habitat for the big black snake with a large number of dark holes to hide inside.  Wildlife Biologist Expert M. Powers explains:
The Egyptian Cobra is quite venomous and could easily kill an elephant in 15- 20 minutes with one fart or bite.  Just the up close sight might be enough to frighten some New Yorkers to death.
Bronx Zoo workers are deeply concerned about maintaining their elephant populations after loosing two last spring.  Experience should prove a knowledgeable teacher for those interested in vacationing in the Bronx this weekend.  Stay away from the Bronx Zoo, Bronx Movie Theaters, Bronx isolated areas, and stay away from any massive black cobras spitting poisonous venom, that certainly includes the local Black Panther chapter and Black Mamba legion of the South Bronx.
Realistically it's just another killer snake loose in the Bronx jungle.  More realistically the jungle is concrete with lots of sewers, rats and deformed pigeons.  We wish the Egyptian snake a long life in politics as the next political representative for the Bronx Borough.  We expect "L.Spike" to emerge coiled later this summer ready to clutch the election.  You heard it here, belly dancers, watch your toes!  There's another snake on the loose!
Today Broadway Gets "High"
New York City International Broadway Shows:
Presents:
"High" by Matthew Lombardo is a recovery addiction drama written from first hand knowledge.  The author was a meth addict, now clean for eight years and writes of the struggle and redeeming qualities of Sister Jamison Connelly, a tough-talking nun.  Kathleen Turner returns to Broadway for the first time since her Tony Nomination for her role as Martha, of Edward Albee's "Who's Afraid of Virgina Woolf?"
The drug addict, played by Evan Jonigkeit, paired with the strong inspirational character of Turner, should prove gripping and entertaining for Broadway lovers searching for deep real life drama relived on stage.
Broadway Previews TONIGHT!  222 West 45th Street at the Booth Theatre!
Easter Bunny not Welcome
Obama declares war on Easter
Radiation leaks in Tokyo created radioactive eggs
New York City International News Report:
Due to Japanese radiation and New York City Mayor Michael Bloomberg's budget cuts, this year there will be no giant Easter Bunnies and only two eggs city wide.  The eggs will both be painted by children and made into an omelet that the Mayor will eat at the teachers pancake breakfast.  Thankfully other areas of the country can afford home grown eggs, but unfortunately due to insane artificial mathematical inflation by computer programs, New Yorkers must import radiated eggs from Japan, along with spinach, sold at seven times market value in Korean delis.  Most Manhattan residents agree,
Because of the normal day to day firing of prolific incinerators and automobiles, New York experiences one of the highest ingested levels of radiation and radical carcinogens in the United States.  It's hard to breathe here compared to Bora Bora!  Complained one Upper East Side asthmatic resident.
Soon we will have air rights auctions in President Trump's Tower to see who has the right to breathe.  Which is good, who needs a free environment of breathable oxygen anyway?  We should decide finally.
My vote is that the Easter Bunny goes first since no one wants to give sick Japanese radiated bunny eggs even if they are painted, said Fox News more or less.
Buyers and Consumers BEWARE, WHERE WAS YOUR EASTER CANDY MADE?
Vintage New and Collector Automobiles
Here in Manhattan 2011
The New York City International Auto Show 2011
Jacob Javits Convention Center
April 22nd – May 1'st
Ferrari, Lamborghini, Rolls Royce, Bentley, Porche, Jaguar, BMW, Mercedes Bends, Acura and many more collector car manufacturers will be presenting at this years New York City International Auto Show in 2011.
If you want front row seats to the hotest international car show of the decade CONTACT NewYorkCityInternaitonal.com for VIP tickets!  Get ready for this year's collector's choice award as the New York City International Auto Show Expo.  The competition should be fierce.
Find your dream car between 34th and 40th 11th Ave, Manhattan
For More Information about the New York City International Auto Show 2011
Thanks for visiting, tell your friends!
"High,"
Written by Matthew Lombardo and directed by Rob Ruggiero
Starring: Kathleen Turner
By the time New Yorkers get "High," on Broadway the play will have gone through evolutions pushed by six months of audience reviews and director revisions.  The final product should be a direct hit among smoking critics missing character depth in their theatric consumption.
Kathleen Turner's Tony nomination for her 2005 Broadway appearance in "Who's Afraid of Virginia Woolf," promises "High," expectations.  In her interview with The New York Times Kathleen Turner was quoted as suggesting Kathleen's character,
"makes me think of how much we operate every single day on faith and belief,"  even outside of connections to organized religion.
Kathleen has true faith in a clear connection with her character (Sister Jamison Connelly).
Connelly is described by Turner as "a foul-mouthed alcoholic nun."
Kathleen's life experience tailoring authentic delivery will make the Manhattan Premiere a must see.  Stephen Kunken and Evan Jonigkeit will also be "High," acting talents  joining Ms. Turner on stage in early spring.
"High," previews in Manhattan begin March 25th with an opening scheduled for April 19th at the Booth Theater.
New York City International Performing Arts Reporters will be covering the premiere.
If you would like an interview, are a public figure, government official or VIP and need special seating assistance please contactNewYorkCityInternational.com.
Enjoy the show!