The Bronx Zoo Replaces Egyptian Snake

Congressman Found in Borough Reptile House
New York City International Political Report:
After selling children's organs for snow flakes in summer the distinguished Republican Congressman from New Delaware was found behind glass as the new mildly interesting American Politician exhibit at the Bronx Zoo.  Manhattan patrons felt cheated when asked to pay for the pleasure of watching a vile creature in a concrete enclosure with glass windows and a full tub.  Apparently in America, these political species are hardly going extinct, due to their hyper stripper breeding patterns.
The Egyptian Cobra has a Twitter following of over 60,000 with a 30% higher Naris Poll approval rating than Mayor Bloomberg.   "L. Spike" doesn't even use content management systems with RSS feeds because it doesn't involve white rats.  For more information go to NY1.com
Thank you for Reading from:
New York City International
April Fools!
Your Source for April 1'st Fun
Bronx Zoo Closes Reptile House
Poisonous viper on the loose, perhaps on a plane!
Samuel L. Jackson Freaks Out and moves to Brooklyn
New York City International Animal Report!
Mongoose Stock up 170 pts!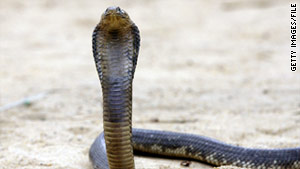 An adolescent cobra was lost in the Bronx Zoo sometime Saturday, NY sources report.  It is true the Bronx is a natural habitat for the big black snake with a large number of dark holes to hide inside.  Wildlife Biologist Expert M. Powers explains:
The Egyptian Cobra is quite venomous and could easily kill an elephant in 15- 20 minutes with one fart or bite.  Just the up close sight might be enough to frighten some New Yorkers to death.
Bronx Zoo workers are deeply concerned about maintaining their elephant populations after loosing two last spring.  Experience should prove a knowledgeable teacher for those interested in vacationing in the Bronx this weekend.  Stay away from the Bronx Zoo, Bronx Movie Theaters, Bronx isolated areas, and stay away from any massive black cobras spitting poisonous venom, that certainly includes the local Black Panther chapter and Black Mamba legion of the South Bronx.
Realistically it's just another killer snake loose in the Bronx jungle.  More realistically the jungle is concrete with lots of sewers, rats and deformed pigeons.  We wish the Egyptian snake a long life in politics as the next political representative for the Bronx Borough.  We expect "L.Spike" to emerge coiled later this summer ready to clutch the election.  You heard it here, belly dancers, watch your toes!  There's another snake on the loose!