Posts Tagged 'New York City International'
Kathleen Turner 'High'
Broadway Theater Review
New York City International
'High' on Broadway before 4:20
At the Booth Theater, Manhattan
"HIGH"
Written by:
MATTHEW LOMBARDO
New York City International Theater Report
'High' premiered Tuesday, April 19 at the intimate Booth Theater.  The off Broadway show was a buzz.  Kathleen Turner creates a rehabilitation center for theater patrons ailing from colorless stage complexity.   All three actors deserved the standing ovation they received for the believable conveyance of realistic characters with non fictional pasts.  'High' written by, Matthew Lombardo, is complex as an open ended straw thatch storyboard woven with stereotypes, truth and real life intricacy.  Overall 'High' is a thought provoking trip into ones self where each path laid bare is still a dirty road that brings you up or get you 'High'.
The intellectual challenge developing each scene as the story unfolds for the audience, was well accomplished by director: Rob Ruggiero.
The World Premiere of High was produced by Theater Works, Steve Campo, Executive Director; Cincinnati Playhouse in the Park, Edward Stern, Producing Artistic Director, Buzz Ward, Executive Director; and the Repertory Theatre of St. Louis, Steven Woolf, Artistic Director, Mark D. Bernstein, Managing Director.
Special Thanks to Theatre Development Fund for their support.
Kathleen Turner 'High' Premiere
New York City International VIP After Party!
For Tickets Visit
Japanese Government Announces Level Cherry Blossom Warning
Minor Radiation Leak Nothing To Worry About
Only 10% of the Radioactive Release of the gleeful Chernobyl Disaster
Humans not affected, possibly mutations restricted to lower life forms, lawyers and politicians

New York City International Travel Report:
Japan has suffered another series of devastating earthquakes.  These tremendous tremors may have awakened Kathy Lee Gifford from her Asian retreat.  Some reports suggest radioactive fallout has spread to the ground water supply and already irradiated several layers of the ecosystem.  Due to bio magnification, higher trophic feeding levels will be subjected to ever increasing levels of ingested radiation.  If indeed aquatic species feeding on plankton and ectoparasite gnathid isopods build up levels of uranium and unstable radioactive material, fishing, whaling and skinny dipping might have to stop for several thousand generations of three eyed flat fish.
For the time being New York City International places an INTERNATIONAL TRAVEL ADVISORY FOR JAPAN until further notice.
The Bronx Zoo Replaces Egyptian Snake

Congressman Found in Borough Reptile House
New York City International Political Report:
After selling children's organs for snow flakes in summer the distinguished Republican Congressman from New Delaware was found behind glass as the new mildly interesting American Politician exhibit at the Bronx Zoo.  Manhattan patrons felt cheated when asked to pay for the pleasure of watching a vile creature in a concrete enclosure with glass windows and a full tub.  Apparently in America, these political species are hardly going extinct, due to their hyper stripper breeding patterns.
The Egyptian Cobra has a Twitter following of over 60,000 with a 30% higher Naris Poll approval rating than Mayor Bloomberg.   "L. Spike" doesn't even use content management systems with RSS feeds because it doesn't involve white rats.  For more information go to NY1.com
Thank you for Reading from:
New York City International
April Fools!
Your Source for April 1'st Fun
Bronx Zoo Closes Reptile House
Poisonous viper on the loose, perhaps on a plane!
Samuel L. Jackson Freaks Out and moves to Brooklyn
New York City International Animal Report!
Mongoose Stock up 170 pts!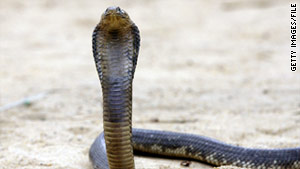 An adolescent cobra was lost in the Bronx Zoo sometime Saturday, NY sources report.  It is true the Bronx is a natural habitat for the big black snake with a large number of dark holes to hide inside.  Wildlife Biologist Expert M. Powers explains:
The Egyptian Cobra is quite venomous and could easily kill an elephant in 15- 20 minutes with one fart or bite.  Just the up close sight might be enough to frighten some New Yorkers to death.
Bronx Zoo workers are deeply concerned about maintaining their elephant populations after loosing two last spring.  Experience should prove a knowledgeable teacher for those interested in vacationing in the Bronx this weekend.  Stay away from the Bronx Zoo, Bronx Movie Theaters, Bronx isolated areas, and stay away from any massive black cobras spitting poisonous venom, that certainly includes the local Black Panther chapter and Black Mamba legion of the South Bronx.
Realistically it's just another killer snake loose in the Bronx jungle.  More realistically the jungle is concrete with lots of sewers, rats and deformed pigeons.  We wish the Egyptian snake a long life in politics as the next political representative for the Bronx Borough.  We expect "L.Spike" to emerge coiled later this summer ready to clutch the election.  You heard it here, belly dancers, watch your toes!  There's another snake on the loose!
Looks like no Christmas for Libya
UN enforces a No Fly Zone for Libya
Not Santa Clause, American Ground Troops or any one else will be dropping off anything but bombs and weapons for some time in Libya.
US F-16 Fighter Jets aren't dropping Christmas presents over Tripoli.  America is fighting on "behalf" of the UN to level the playing field.  There may be some who don't understand why we are bombing country after country but here at New York City International, we report the inside story.
Britan, France and other Allied Partners (perhaps Arab countries) are planning to sit back while Rebel forces fight among themselves for rulership of a country which will most likely kill them before the end of their first term.
We are now involved in killing Muslims in three countries.  It may seem like sport for some mid Americans but it's not.  It may seem like payback for the 80's but it's not that simple.  The United States needs oil for various big businesses and our leaders have invested interestes in the war mongering companies who control the central bank.
If the Central Bank fails we will print more money which will cut down more trees and lead to global warming.  All in all, with the earthquakes, tsunamis, tornadoes, oil spill, nuclear melt downs, middle east war, terrorist bombers, and the war on teachers, you would think our government has enough to worry about.
In fact, The United States of America is planning to take over Libya and build a failing amusement park, says one local source.
Do you want to go to Libya Land with Mickey Mouse?  Mind you don't get ham-burgled by a hand grenade.
The No Fly Zone is in effect so don't plan on visiting your dear sweet grams because the rebels have taken her town down.
Or was it Gaddafi, or the French, or the British, or the American bombs that wiped out my goat milk farm?
New York International will report the full story as it unfolds.  For now, stay indoors with duct tape.

New York City International Art Exposition 2011
NYC Art Expo 2011!!
Finally here at Pier 94
March 25th-27th
New York City International attended the NYC Art Expo in 2010 and are of definitely planning on being there this year in 2011.
For those members of the Art Guild, you can show up to the Art Show early with documentation of your business and get in FREE if you register HERE.  Members of the Art Loving public are encouraged to attend from 10-4 March 25th to March 27th, give or take an hour (the show historically opens and closes a bit earlier or later depending on who's running the doors).
Contact us for FREE TICKETS!  We have a limited number of YES FREE TICKETS for anyone who can contact us before March 22nd!
Register HERE with NYC Art Expo and contact us HERE for your promotional code so you get in FREE!
If you love art and are in the neighborhood, hey you heard it here so VIP FREE for you!
Contact us here to get free tickets for your group under 5 members.
Thanks for supporting New York City International Art Expo 2011!
Over 400 Exibitors from over 20 countries will attend and show us their artistic skill.
See you there at Booth #703
Courtesy of Anna Art Publishing!
The 2011 New York City International Dog Show
Winter Wonderland:
Hosted by:
PetCo and New York City International
Our record Snow in January 2011 has been the heaviest snow on record, but dogs and their owners don't seem to mind here in Central Park, New York City.  The New York City International Company and Pet Co have teamed up for a special winter contest for dogs!
For a limited time only, send in one picture of your dog in the snow and be sure and vote for your favorite canine!
The pet with the most votes will win a doggie bag full of great treats and gifts from Pet Co.
Spay or neuter your pets and possibly family.
Get out there and enjoy the snow in New York City!
"High,"
Written by Matthew Lombardo and directed by Rob Ruggiero
Starring: Kathleen Turner
By the time New Yorkers get "High," on Broadway the play will have gone through evolutions pushed by six months of audience reviews and director revisions.  The final product should be a direct hit among smoking critics missing character depth in their theatric consumption.
Kathleen Turner's Tony nomination for her 2005 Broadway appearance in "Who's Afraid of Virginia Woolf," promises "High," expectations.  In her interview with The New York Times Kathleen Turner was quoted as suggesting Kathleen's character,
"makes me think of how much we operate every single day on faith and belief,"  even outside of connections to organized religion.
Kathleen has true faith in a clear connection with her character (Sister Jamison Connelly).
Connelly is described by Turner as "a foul-mouthed alcoholic nun."
Kathleen's life experience tailoring authentic delivery will make the Manhattan Premiere a must see.  Stephen Kunken and Evan Jonigkeit will also be "High," acting talents  joining Ms. Turner on stage in early spring.
"High," previews in Manhattan begin March 25th with an opening scheduled for April 19th at the Booth Theater.
New York City International Performing Arts Reporters will be covering the premiere.
If you would like an interview, are a public figure, government official or VIP and need special seating assistance please contactNewYorkCityInternational.com.
Enjoy the show!
Number 5 on "Hottest women on maxim.com of all time" !!!

Chance Spiessbach of Chance TV spent some time with Diana Falzone.  New York City International's TV Host and Radio Host  gorgeous friend.
Diana Falzone was a talk show host on the "Cosmolicious with Diana" show on Cosmo Radio. She has been a guest on several television and radio shows nationwide including The Morning Show with Mike and Juliet on Fox, The Sauce on Fuse TV, The Weekly Riff on Fuse TV, The CW Morning Show, The Carlos Watson Show on the CW, Best Night Ever on VH1, The Candace Bushnell Show, The Wise Guys Show, Breuer Unleashed, The Jay Thomas Show, and the Opie and Anthony Show on Sirius 197/XM 202. Diana is the host of "Date Night with Diana" on Fox News iMag.
Falzone has worked in various venues, including as a local network anchor for CW, a commentator for AMC (TV network), a host and producer for NYC-TV, and a guest host and correspondent for G4's Attack of the Show. She is best known for her work hosting the popular talk show that was on the air for two years: the Devore and Diana show. She appears on many Sirius shows and her voice can be heard on numerous channels such as Octane and the new AC/DC channel. She also hosts a weekly internet talk show Paltalk utilizing the internet chat service of the Paltalk. Recently, Falzone starred in a Paltalk presidential viral video.  Falzone is also Paltalk's spokesperson. Falzone is exactly what one would dream of as the perfect lingerie or swimwear model. Falzone was also voted number five most popular Maxim.com model in 2007 as well as a Today's Girl for Maxim. She is a co-creator and writer of a new webcomic called Hot Mess.
Men's Athletic Quarterly Magazine, Warning Magazine, YM, Seventeen, JcPenny's and a slew of romance novel covers (weird right?). Falzone hosted MTV red carpet events. She also hosted the Fuse networks "Tip of Your Tounge" and has worked as an entertainment correspondent for the CW network. She can be seen on "The Sauce" on Fuse TV as their relationship expert and "Red Eye" with Greg Gutfeld on Fox News representing Paltalk and Maxim Radio regularly as a panelist. She is all over Sirius. She has been on the "Candace Bushnell Show" on Sirius Stars, "The Jim Breurer Show" on Rawdog, "The Wise Guy Show", "Octane", "The Jay Thomas Show", Shady, etc. Currently, she writes for a new sports magazine, Men's Athletic Quarterly.
Check out more of New York City International radio host interviews at:
http://newyorkcityinternational.com/?page_id=251